The Industry Leader in Sewer Repairs in Severna Park, MD, and the Surrounding Areas
Dealing with a sewer problem? Count on W. A. Booth Plumbing Services for reliable sewer repair in Severna Park, MD, and nearby areas. We address an array of issues that may affect your sewer line.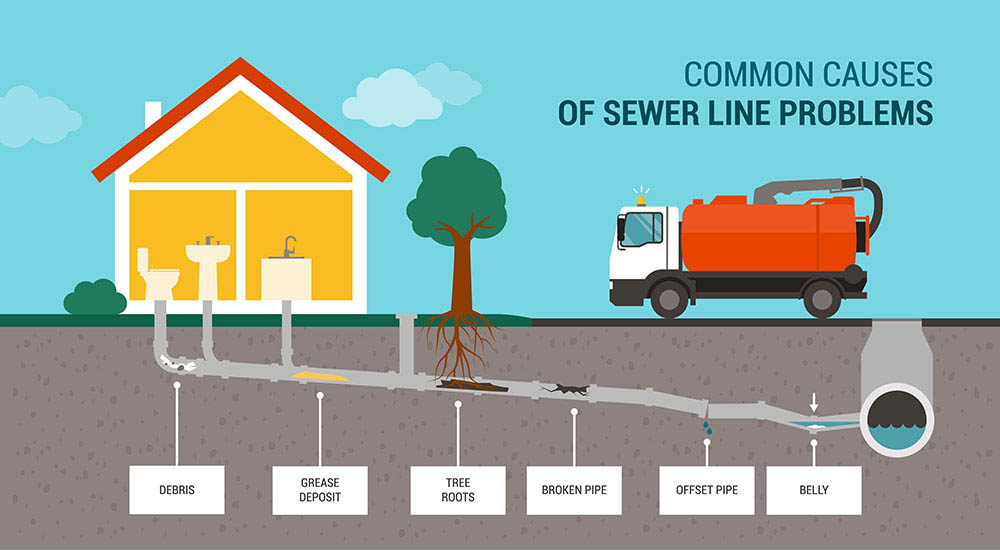 Common Causes of Sewer Line Problems
A sewer line slowdown or a complete obstruction can result from a wide range of causes. Food, grease, hair, paper products, and other discarded items can accumulate to the point that a partial blockage of the pipe occurs. Pipelines can deteriorate over time due to constant contact with wastewater or corrosive soils. Tree roots and soil may also enter a buried sewer line through small cracks or weak spots and build up until the line is entirely obstructed. No matter the cause, rest assured that we can repair or replace your sewer line in a timely manner.
Why Repairs Should be Made Promptly
Sewer line damage never corrects itself on its own. Even high-quality, properly installed sewer lines will eventually break down if continually exposed to high-strength wastewater, so keeping your property's pipes clean and in good repair will help to prevent problems by encouraging effective flow through the pipe. Even minor damage to the line can allow tree roots in, and the growth of these roots will facilitate the further breakdown of the pipe.
Some Common Sewer Issues We Address
Our sewer line repair and maintenance services are aimed at resolving the most common causes of sewer line problems. We can clear out accumulated tree roots and other materials to promote proper flow and also replace pipe sections or even entire pipelines to repair damage or restore the gradient of extensively settled sewer systems.
Frequently Asked Questions
Ask Us About Our Sewer Line Solutions
Make W. A. Booth Plumbing Services your choice for sewer repair work in Severna Park, Annapolis, or a nearby area by calling to request an in-person consultation today. We look forward to providing you with the best solution.