Trenchless Sewer Repair Services in Severna Park, MD, and the Surrounding Areas
Modern trenchless repair technology makes it possible to carry out repairs to a damaged sewer or drain without first having to excavate it from the ground. The pipeline's structural integrity is instead restored by placing a new liner directly inside the existing pipe. The liner is inflated with air or water to fit closely to the old pipe, and it seals up cracks, separations, and other damage as it cures to full strength. When it comes to trenchless sewer repair in Severna Park, MD, or nearby areas, no company is as adept and well-equipped as W. A. Booth Plumbing Services.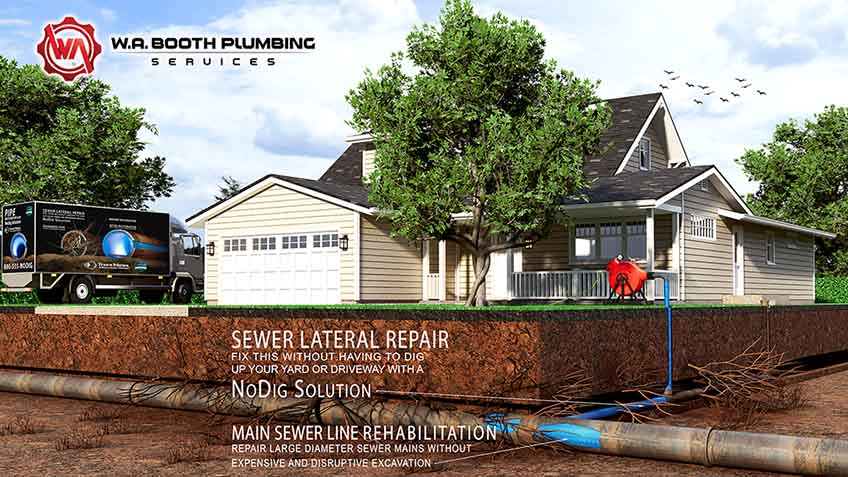 The Main Advantages of Trenchless Technology
Many of our clients prefer trenchless pipe repair because the process doesn't harm landscaping, paving, or other structures above the ground surface. The service is also fast to implement, requires very little equipment, and results in a strong pipe-within-a-pipe that resists future damage from corrosion, tree roots, and other causes.
We recommend trenchless repairs over traditional methods because of:
There Is Virtually No Property Damage

It Is More Cost-Effective

It Ensures Minimal Disruption
It Means A Fast Turnaround

It Provides Long-Lasting Results
Common Issues That Trenchless Repairs Can Address
Our trenchless repair solutions are ideal for pipelines that have become weakened due to age or that have been infiltrated by tree roots. The new lining also protects the surrounding soil and groundwater by preventing sewage leaks from small cracks or separations in the pipe.
Other common sewer line problems are:
Red Flags to Watch Out For
Once you notice that your drains are clogged constantly or slow draining, that is one sign that a trenchless repair should be considered. In addition, you may notice unusual drain odors, soggy spots on your lawn, and even foundation damage. There are times when trenchless sewer repair is what you need when your property still has an older sewer line, even if you think it is still in good shape. You may not know it but an outdated sewer line will begin to show signs of wear.
Frequently Asked Questions
Address Sewer Isses Without the Mess
You won't go wrong by turning to W. A. Booth Plumbing Services for trenchless sewer repairs. Call us or fill out the form to request an estimate or appointment today.